FR

Membres
Serafine DINKEL
Doctorante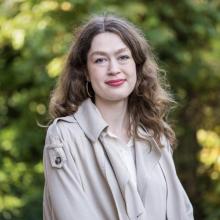 serafine.dinkel@ulb.be

Institut d'Etudes européennes
Campus du Solbosch - CP 172
Avenue F.D. Roosevelt, 50
1050 Bruxelles

Bio
Serafine is a Marie Skłodowska Curie Doctoral Fellow at the Université libre de Bruxelles and the University of Warwick within the Horizon Europe GEM-DIAMOND project (Globalisation, Europe, and Multilateralism - Democratic Institutions, the rise of Alternative Models and mounting Normative Dissensus). Her doctoral project, supervised by Seda Gürkan (ULB) and Ece Özlem Atikcan (UoW), examines the impact of authoritarian tendencies in the Western Balkans and Eastern Partnership on the effectiveness of EU democratic conditionality and normative power.
Her published research focuses on EU external governance and strategy, EU enlargement policy and German foreign policy. She is an Associate Fellow at the German Council on Foreign on Foreign Relations (DGAP), where she worked on a high-level strategy project on EU capacity to act before joining Cevipol. She was previously a research assistant at the NATO Parliamentary Assembly, a Blue Book trainee in the strategic policy planning division of the European External Action Service (EEAS) and a research assistant at the Chair of European and international politics at the University of St. Gallen.
Serafine holds an MA in international security from Sciences Po Paris and an MA in international affairs and governance from the University of St. Gallen, as well as a BA in social and political sciences from Sciences Po Paris' Franco-German program.
CV
2022- : PhD candidate, Université libre de Bruxelles (Cevipol); Marie Skłodowska Curie Doctoral Fellow - GEM-DIAMOND Project Work Package 4 (funded by the European Commission - Horizon Europe)
July 2022-: Associate Fellow, German Council on Foreign Relations (DGAP)
2020-2022: Project Assistant, German Council on Foreign Relations (DGAP)
2021: Fellow, Think Tank School (German Council on Foreign Relations and Mercator Institute for China Studies)
2020: Research Assistant, NATO Parliamentary Assembly
2019-2020: Blue Book Trainee, European External Action Service
2018-2019: Research and Teaching Assistant, University of St. Gallen (SEPS-HSG)
2018-2021: Master in International Affairs and Governance, University of St. Gallen
2017-2019: Master in International Security, Sciences Po Paris
2014-2017: BA in Social and Political Sciences, Sciences Po Paris
Mis à jour le 22 juin 2023